As a 17 year-old high school senior, Leah qualified for her first Level 9 all-round Virginia State gymnastic competition. Just two months before the big event, she under rotated on a vault and fell directly on her left hand. She knew immediately that something was wrong from the significant bruising and pain.  At the office of Dr. Cassie Root, hand surgeon at the Nirschl Orthopaedic Center, her x-rays showed a displaced spiral fracture of the 5th metacarpal.
Dr. Root discussed all the options with Leah and her family and Leah decided to proceed with surgery. Two days later, Dr. Root performed a closed reduction and placed two wires to hold the fracture in the proper alignment. A few days later, Leah was placed in a custom splint fabricated by Meghan Little, a certified hand therapist at Virginia Sportsmedicine Institute.  After a serious discussion with Dr. Root, it was agreed upon that Leah could continue her gymnastics but with one major condition. She could only use one hand! Three weeks after surgery, Dr. Root removed the wires in the office.  Leah had regained almost all of her finger range of motion due to her hard work in physical therapy with Meghan.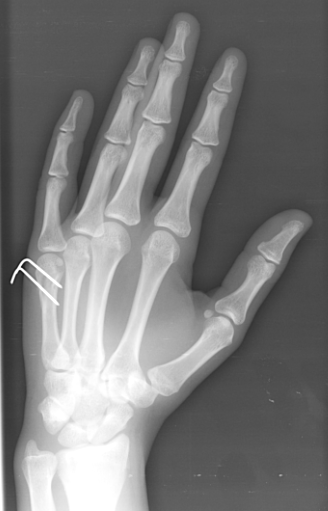 On her final visit to the doctor only 4 days before the gymnastic competition, the x-rays looked great. Leah was allowed to slowly decrease the use of her splint but she could not yet tumble on her injured hand.
Of course this meant Leah could not compete in the all-round events, but she loved the floor routine.  This would be her last meet as a senior.  So, with only 3 weeks until States, she completely changed 3 vital skills in her floor routine so she could compete. If you have ever been a competitive athlete, you can appreciate how challenging it is to completely change your routine only 3 weeks prior to a competition. To top that off, she could only tumble using one hand. This was a once-in-a-lifetime opportunity for Leah, and she had worked for many years to accomplish this goal.
Leah qualified for Regionals and competed her one arm routine again. Although she did not place at Regionals, Leah was just so happy to compete in the state competition. Her grit and determination should be a lesson to us all. Sometimes when life throws you a curve ball, pick it up and throw it right back – even if it is with only one hand!
Nirschl Orthopaedic Center is a leader in sports medicine and general orthopedics services. If you have an orthopaedic injury, schedule an appointment with one of our doctors today by calling our Arlington, Virginia location at 703-522-2200. Visit our website at www.nirschl.com to learn more about our services. Follow us on Twitter @DrCassieRoot and @NirschlOrtho.