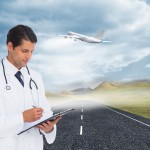 Our society is becoming more global and travel friendly.  Many times, patients with a specific medical issue may decide to travel out of town to have definitive medical treatment, including surgery.  While there may be very good reasons to want or need to do this, the patient may have additional issues and needs that must be considered prior to making this commitment.  As a surgeon who often sees patients who travel from out of town for a specialized procedure that I do, I am well aware of these issues.  I have currently operated on patients from California, Idaho, Iowa, Michigan, North Carolina, Oklahoma, Pennsylvania, Puerto Rico,  and Texas. This article will talk about what to ask and look out for when traveling for surgery.
Patients have reasons that they wish to travel to have surgery.  The doctor or center that they are choosing may have a specific expertise for a medical condition.  The patient may also travel to be closer to their family to make for an easier recovery.
There are four specific issues that a patient should consider prior to having surgery out of town.  First, how long can the patient stay away from home?  While a surgery may normally take a set amount of time for initial recuperation, the surgery may not be without complications.  If the surgeon wants you to stay an extra week after the procedure, is that personally and financially feasible?  Second, what happens if there is a late complication after the patient returns home?  The surgeon may request that you return for follow-up care and this can be an additional expense and time away from home and work.  If you cannot get back to that surgeon, are their other physicians local to you who would be willing and able to treat you?  Third, how communicative is the surgeon?  Many orthopaedic procedures rely on physical therapy and post-surgery protocols after surgery.  If the patient or other health care providers have questions regarding this, how does this get communicated to the surgeon?  Does he/she answer email?  Is the surgeon comfortable with treating a patient "over the phone"?  Finally, how comfortable is the surgeon treating a patient whom he/she will not be following long term?  Do they have a system in place to handle issues of communication and follow-up?
The most important step a patient can take is to research doctors and facilities ahead of time.  Many times, doctors who are accustomed to seeing patients from out of town have a system in place to accommodate this. The patient can gather their medical records, radiographic images and MRI's, which can be mailed ahead of time for the surgeon's review.  If a patient is thinking about having their surgery performed out of town, a call to the surgeon, asking if this system is in place, can save some unnecessary expense.  It is far better for patients to know ahead of time if they are an appropriate candidate for a procedure, rather than travel to the facility only to find out otherwise.  A patient should also ask to speak to the billing department, as the center and surgeon either may not participate with their insurance or the specialized procedure may not be covered by their insurance.  By talking to the staff, the patient can definitely get a sense of how experienced the office is in dealing with patients from out of town, which can help with the patient's comfort level.
All patients should set up a pre-operative appointment well before an intended surgery.  This will relieve pre-surgery anxiety for the patient who now knows their doctor prior to having the surgery.  Sometimes, no matter how great a doctor looks on the internet or how convenient it would be to have the surgery there, a patient may meet the surgeon and decide to look elsewhere.  If the pressure of already scheduling the surgery is looming, this may unduly influence an important decision.  Keep in mind that many centers may also have a surgical cancellation fee.
Medical tourism has its benefits and drawbacks.  If a patient actively researches and prepares before surgery, the benefits can be maximized, and the drawbacks diminished.
Dr. Derek Ochiai is a board certified orthopaedic surgeon, specializing in Hip Arthroscopy and Sports Medicine, at Nirschl Orthopaedic Center for Sports Medicine and Joint Reconstruction.  Follow him on Twitter @DrDerekOchiai. For more information go to the web site at www.nirschl.com.
Nirschl Orthopaedic Center is a leader in sports medicine and general orthopedic services. In addition, Virginia Sportsmedicine Institute Physical Therapy has been rated on of the top sports medicine clinics in the Washington DC metropolitan area. If you have an orthopedic injury, schedule an appointment with one of our doctors today by calling our Arlington, Virginia office at 703-522-2200 or visit our websites to learn more about our services.